From 6 to 18 November, Heads of State, ministers and negotiators, along with climate activists, mayors, civil society representatives and CEOs will meet in the Egyptian coastal city of Sharm el-Sheikh for the world's largest annual gathering on climate action. COP27 will build on the outcomes of COP26 to deliver action on an array of issues critical to tackling the climate emergency – from urgently reducing greenhouse gas emissions, building resilience and adapting to the inevitable impacts of climate change, to delivering on the commitments to finance climate action in developing countries. Faced with a growing energy crisis, record greenhouse gas concentrations, and increasing extreme weather events, COP27 seeks renewed solidarity between countries, to deliver on the landmark Paris Agreement, for people and the planet. As COP27 fast approaches, we thought it would be an opportune time to reflect on some of the expected outcomes from the conference and the potential opportunities these might present for the themes and sub-themes within the TT Environmental Solutions Strategy's investable universe.
Whilst several pledges and initiatives came out of COP26, COP27 is shifting the focus to enactment and implementation. Some of the key items on the agenda for COP27 which we will be monitoring closely, include:

Climate finance
Adaptation
Loss and damage
Food security
Increased ambition
Climate finance will focus on the ability of developed countries to fulfil the commitment of the $100bn per year climate financing pledge made at COP15. In addition to the $100bn goal, which has never been met, discussions will centre on a post-2025 climate finance arrangement.
This is likely to be a positive for manufacturers producing solar & wind infrastructure and energy storage, in addition to producers of energy efficient appliances and equipment. There are several companies currently held in the portfolio which will potentially benefit from such tailwinds.
Denmark based
Vestas
are the undisputed leader in onshore wind. Their market share increased by 6% between 2017-18 to 18%, whilst their total installed capacity is 100GW onshore, which is 25-30% greater than their nearest global competitor. Over the last 40 years Vestas has installed 113GW of wind power, which has prevented the release of 1.3bn tonnes of CO2 and it is estimated that there will be a 62% increase in electricity demand globally by 2050. Meeting these global energy demands, whilst constraining GHG emissions, is impossible without a significant increase in renewables within global generating capacity.
A portfolio example within solar is Sungrow, a Chinese listed producer of solar inverters. Their core product line in PV inverters have been sold to 150 countries and regions worldwide and their cumulative installed capacity at the end of 2021 was 224GW. Whilst there are some clear geopolitical headwinds between the US and China regarding their climate cooperation outlined at COP26, Beijing has outlined some ambitious domestic green ambitions. It has vowed to reach its carbon peak in 2030, aiming to produce a quarter of its primary energy from renewable resources by then. We will be monitoring China's participation and comments at COP27 closely.

Plug Power are a US listed hydrogen fuel cell developer with four integrated business units all focusing on hydrogen as a zero-carbon (at point of combustion) alternative to diesel. 100% of their revenues are aligned with the Sustainable Development Goal 7 of 'Affordable and Clean Energy' and they will provide critical support for the green hydrogen economy.
Lastly,
Stem
are a US listed provider of products that are key to decarbonising the electricity grid. Their storage solutions facilitate the adoption of renewables into the electricity grid by alleviating concerns related to intermittency associated with renewable forms of energy generation. In addition to helping increase the penetration of renewables, Stem's software solutions can help optimise energy management loads, improving efficiency for end users.
The second key item on the COP27 agenda is a greater focus on adaptation. The overwhelming majority of climate finance is dedicated to mitigation, with considerably less focused on adaptation. Adaptation projects have suffered due to a perceived lack of bankability, but given the location of the conference, there will be an increased focus on assistance for the most vulnerable continents and communities to help them adapt to climate change and support an equitable global transition.

An example portfolio holding focused on adaptation is US listed water services provider, Evoqua. Their services transform approximately 100 billion gallons of water every day with their business lines servicing several industries. This is over 4.5 times the amount of water flowing over Niagara Falls every day.  One of their key solutions is the use of carbon and resin solutions for the removal of Polyfluoroalkyl substances (PFAS), potentially harmful man-made 'forever chemicals', from community water sources and industrial wastewater.

The next COP27 agenda item of interest for us is 'loss and damage' which tackles how to help people after they have experienced climate-related impacts. There have been several attempts to establish a finance mechanism for loss and damage that have repeatedly failed. While previous attempts to set up a financing facility for loss and damage have fallen on deaf ears, it will likely be centre stage at COP27, given climate disaster events witnessed this year such as the flooding in Pakistan and severe drought in Somalia. How developed nations respond to this renewed push by developing nations to create a framework for how to consider loss and damage could set the tone for the conference.

Food security is likely to be another key theme discussed, given the severe implications of Russia's invasion of Ukraine. We expect more of a focus on agriculture at COP27. This is potentially a tailwind for precision agriculture, agricultural seed and farm chemicals (fertilisers), along with land use management and water technology companies. Some example company beneficiaries currently held in the portfolio are listed below.
Lindsay Corp is a US manufacturer of pivot irrigation systems for farmers globally. Their mechanised pivot irrigation systems apply water more efficiently resulting in significant water savings. In addition, farmers yields are materially enhanced which means that more food can be grown on less land. This results in a positive impact on biodiversity. To date, their water savings could sustain almost six million people for a full year and their energy savings equate to the annual Co2 emissions of over 85,000 passenger vehicles.
Another portfolio example is KWS, a German listed producer of yield enhancing seeds for growers. In addition to enhanced yields, their seeds are more resilient to drier, hotter climates. Changes in abiotic stresses require new characteristics of seeds, whilst changes in the climate also potentially alters patterns of weeds and fungal diseases. Their portfolio includes seeds for 11 of the 13 most important crops - corn, wheat, potato, soybean, barley, vegetables, rapeseed, sorghum, sunflowers, sugar-beet and rye.
Importantly, both Lindsay and KWS are companies providing environmental solutions in, what we would consider to be, areas of adaptation rather than mitigation, which as previously mentioned is expected to form a large area of focus at COP27.
Lastly, we expect there to be a focus on 'increased ambition'. Even if all Nationally Defined Contributions (NDCs) that were pledged at The Paris Agreement in 2016 were implemented, we would still overshoot the 1.5C mark, with a worst-case scenario of 2.8C and a best case of 1.8C according to the intergovernmental body of the UN, the IPCC. To avoid the worst consequences of temperature rises, global ambitions will have to be increased. Countries agreed to submit enhanced NDCs before the end of 2022, but few have done so. Attention could turn to whether, in light of new science and analysis, enough is being done to limit the worst consequences of climate change.
Unfortunately, the current global backdrop is not particularly conducive to climate collaboration. The war in Ukraine has widened the rift between Russia and Western nations, whilst US/China relations are at a low point.
Despite this, there are reasons to remain hopeful and expect positive outcomes from the conference. Indeed, the benefits of energy efficiency and transition as a means of enhancing energy security could drive collaboration. We have already seen strong policy response in the form of the REPowerEU plan, which seeks to rapidly reduce the reliance on Russian fossil fuels by increasing renewables capacity, accelerating green hydrogen production, and prioritising energy efficiency measures.
Optimism regarding the US and its ability to influence the global agenda on climate comes in the form of the Inflation Reduction Act, which has approved a significant package of measures to address climate change. This could strengthen the US negotiating position and potentially act as leverage to motivate strategic partners to increase climate ambition.
Encouraging noises are also coming out of China, where at the recently held National Congress, President Xi outlined China's plan to accelerate the development of a new energy system and play an active role in global governance against climate change.
While perhaps not attracting the fanfare associated with Glasgow's COP 26, we see the agenda and outcomes of COP27 as a significant and important opportunity to limit climate change, and one which could substantially benefit many of our portfolio holdings.
TT Environmental Solutions – Portfolio Exposures*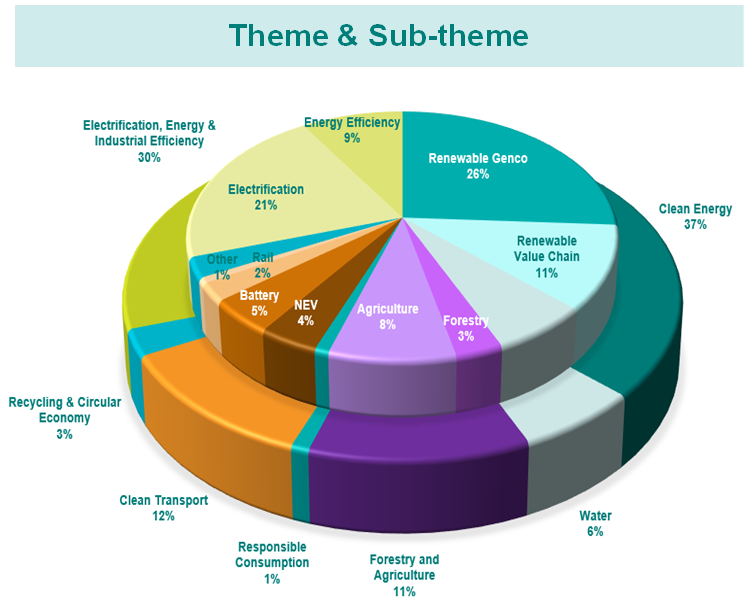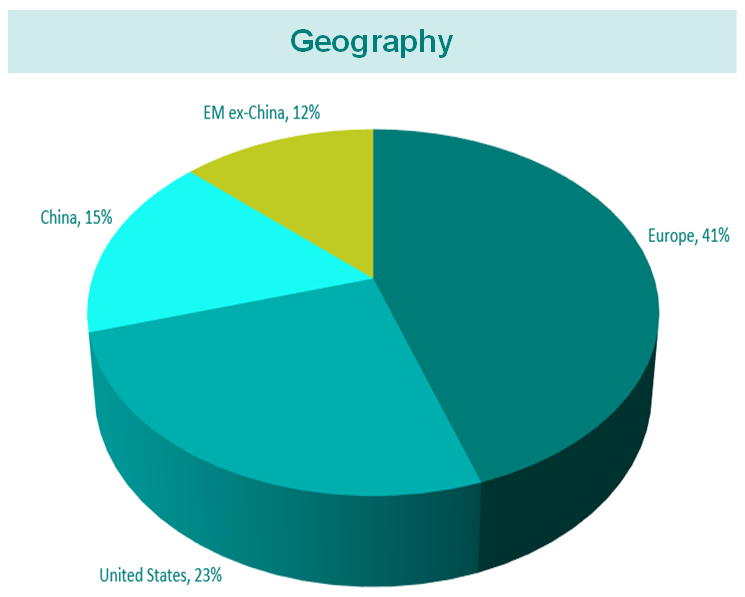 * Source: TT International. Data as at 30th September 2022.
Important Information:

Nothing in this document constitutes or should be treated as investment advice or an offer to buy or sell any security or other investment. TT is authorised and regulated in the United Kingdom by the Financial Conduct Authority (FCA).